The OPA Arduino Shield
OPA is an inexpensive FM Music synthesizer for Arduino thatís bursting with character.
Specifications
Top view
Back view
Front view
The shield is powered with a tiny but powerfull
dsPic33EP256MC202
16bit / 140Mhz microcontroller from
Microchip
and offers the following characteristics:
4-operators (sine) algorithms
13 different algorithms
10 FM voices
8 PCM voices (percussions)
8 + 1 simultaneous programs
32 samples from Loopmasters
104 user presets slots
Absolute or pitch-relative operators
ADSR envelope per operator
Triangle LFO per operator
Forth operator with feedback and noise
Project story
Inspired by the classic sound-chips found in 90's video game consoles, keyboards and sound cards, OP∑A gives your next project retro flavored sounds and music, all through a simple serial interface. It has been design to be:
Simple to integrate into any Arduino based project
Able to play great sounds right out of the box
Easy to program
Affordable
About FM synthesis
The sound of FM synthesis has had a profound influence on more than a generation of musicians and music lovers. It has also played an important role in the history of video game music. The development of dedicated circuits like the OPL series allowed PC and console gamers to enjoy high quality sound while not taxing the CPU. For more than a decade, the sound of FM was the sound of gaming. Popularized by Yamaha during the 80s, FM synthesis was at the heart of many famous instruments such as the DX7 and consoles such as the Sega Megadrive and Genesis.
System diagrams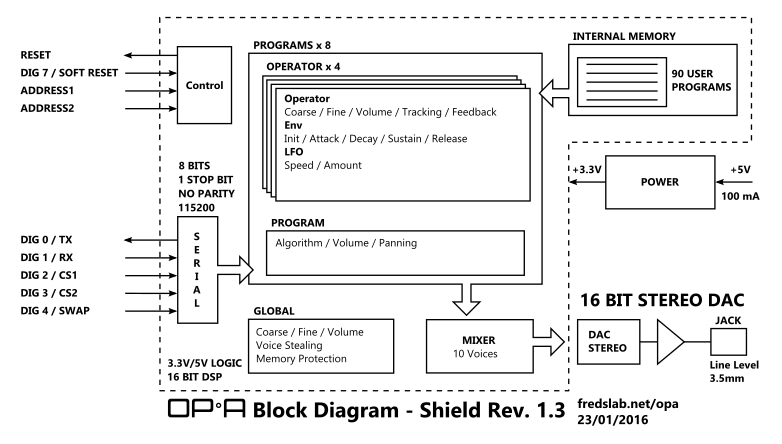 Project downloads
Documentation:
OPA Reference manual 0.1 (24.01.2016)
OPA Booklet (page 1)
OPA Booklet (page 2)
OPA Memosheet
The lastest version of OPA editor:
OPA editor 1.11 (13.08.2016)
Windows (XP / Vista / 7 / 8 / 10)
MacOS X (from 10.7 - app bundle)
MacOS X (from 10.7 - dmg)
OPA editor 1.10 (04.07.2016)
Windows (7 / 8 / 10)
MacOS X (from 10.7 - app bundle)
MacOS X (from 10.7 - dmg)